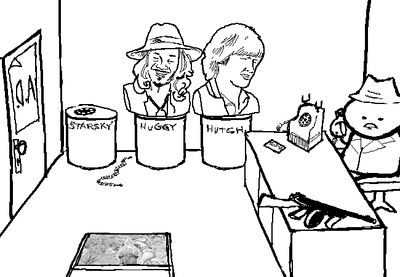 Ace Dick's office is a location in Problem Sleuth. It is where Ace Dick conducts business. Ace Dick begins the game here, but unlike Problem Sleuth and Pickle Inspector he is not initially trapped inside.
Ace Dick is a collector of Busts, and his office is home to three particularly fabulous ones of Starsky, Hutch and Huggy Bear, each sitting on a labeled bust stand. At some point before the beginning of the game AD took his Starsky Bust from its pedestal and put it outside the door of Problem Sleuth's office, blocking him in. He also somehow got the dial and cord of Problem Sleuth's telephone, which he placed on the Starsky stand.
To further antagonize Problem Sleuth, Ace Dick placed a mural of Ethnic Cheer directly in front of the eyeholes in Problem Sleuth's safe, so the only thing Problem Sleuth sees when he looks into Ace Dick's office is horrific tolerance and understanding.
Ace Dick keeps a telephone and a Tommy Gun on his desk. The desk itself is made of wood paneling and two smaller Busts, which are eventually used in the construction of his Fort. AD keeps a Cruet of Brandy under his desk.
There are two main exits to the office: the front door which leads out to the Hallway, and the safe which leads into AD's Back Room. A slot in the wall connects to the Dumbwaiter in Problem Sleuth's Back Room, allowing the two sleuths to trade small items and messages back and forth.
Like Problem Sleuth, Ace Dick has an electrically powered Window leading to the imaginary universe, fueled by a grain alcohol generator. Ace Dick's Window exits out onto a fire escape that leads to a nearby Rooftop, granting him access to the skylight connected to Pickle Inspector's office.
Ace Dick accesses his Back Room by going through his safe. The room is empty except for a couple of barrels, a spider and a large amount of acrid fumes. He has a dumbwaiter here which he can ride up and slip items through a slot that opens into PS's Back Room.
Other than the ladder leading up to the safe, the only exit is a locked door leading into the still room.
Community content is available under
CC-BY-SA
unless otherwise noted.