Aradia's hive is small and presumably located outside the city in which Sollux lives, although the green towers in the background could just be part of the landscape. She has cut parts of the land in front of her house to do her archeological digs. Like most other Hives the structure is mostly grey with 12 paned windows. From the outside the windows appear as a yellowish brown and there is a matching windmill on top of the building. Her hive is similar to Tavros', reflecting her membership of the lowest caste.
Hive Postmortem
[
]
After Aradia dies her house is covered in vines and starts to decay and fall apart. This was because the house got destroyed in Sollux's psychic blast. The only thing left is the bottom level which now has no roof. Aradia could have rebuilt her home, but she had no need for shelter as a ghost.
Hive Within The Medium
[
]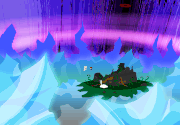 Within the medium her dig site is gone, though a bit of grass did go with the house, and lies on top of the quartz. The building was later expanded by Nepeta Leijon to reach the Seven Gates and eventually Skaia as required by Sburb, but was ultimately destroyed alongside Aradia's whole planet during Jack Noir's rampage.
Respiteblock
[
]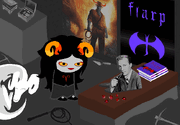 Aradia's Respiteblock is filled with items that she uses to adventure with. Her Lusus slept here before it was destroyed by Vriska. Aradia's former Strife Specibus (Whipkind) is seen on the floor. She has a poster of Troll Indiana Jones, and her floor is littered in digging tools, fitting her affinity for archeology. She has red dice on the table, which contrast Vriska's blue dice, probably used for Flarp. A couple of music boxes can also been seen on the grey table behind her. This is probably a foreshadowing of her role as the Maid of Time, and the open one is possibly what she used to alchemise her music box time machines, similar to Dave and his Timetables.