Dubiously Canon
---
Ardata's hive is the home of Ardata Carmia, located in the Thrashthrust subgrub of Outglut on Alternia. The player, as the MSPA Reader, can visit this location during Ardata's route in Hiveswap Friendship Simulator: Volume One.
The majority of Ardata's route takes place within her Hive, although the player is thrown out unless they complete the "friiiendshiiip!" ending. Interestingly, the graphic of the player being ejected from Ardata's hive is shown even if they don't enter it, during the first, shorter "rejection!!!" route.
In Friendsim Volume 18, Ardata's hive is the venue of a party attended by the player during Lanque's route.
Kitchen
[
]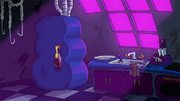 Ardata's kitchen features a thermal hull (refrigerator), a worksurface with a sink and cupboards, as well as meathooks hanging from chains from the ceiling. The handle of the thermal hull and the faucet levers above the sink are colored so as to resemble a troll's horns. Sharp knives are visible in a holder next to the sink.
The MSPA Reader enters this room upon first arriving at Ardata's hive, in the hope of receiving some food; however, she leads them immediately down to her basement. If the player follows the "friiiendshiiip!" ending, the pair return to the kitchen later for a scene in which the player prepares food for Ardata and feeds it to her, before she breaks down and confesses her insecurities.
Basement/dungeon
[
]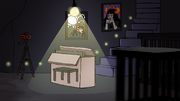 Ardata's basement is an underground room that serves as her torture dungeon and the set for her live social media broadcasts featuring her and her captives. The room contains cages housing her captives, although these are usually left unlocked (the captives do not leave out of fear and reverence for ardata). Additionally, the room is adorned with pictures of Ardata and her lusus, and contains various props for her broadcasts (such as the table assembled by the MSPA Reader during Ardata's friendsim route). A camera sits on a tripod for the purposes of recording broadcasts. The room is lit by dim inset wall lighting as well as a bright central lightbulb.
The player enters this room during Ardata's route, where they are instructed to put together a flat-packed table for the viewing public. If the player does not attempt an early escape, the table collapses on them, instigating Ardata's main rejection route.