Basilisks are an enemy first encountered in the Land of Wind and Shade. They possess a long snake-like body with multiple sets of limbs, as well as a distinctive long tongue. Like Imps, they seem to possess varying costumes. They are also able to breathe fire

.
Two other varieties of Basilisk, colored in grey and green, are seen mounted in the foyer of Jade Harley's house.
In human mythology, basilisks are said to have venomous breath, and sometimes a petrifying gaze. Sburb basilisks do not have either of these powers, though the portrusions on their head are similar to both the "crown" of the mythological basilisk and the "casque" of the real-life basilisk lizard (family Corytophanidae).
Interestingly, the original Basilisks that John fought were about twice as big as the ones found on LOHAC and LOTAM and had six legs instead of four. Other underlings, such as the Giclops have displayed variation in size as well.
Tar Basilisks
Edit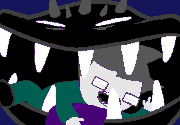 Tar Basilisks are an enemy found in the Land of Wind and Shade. They are first seen

when they attack a small village on the land, along with a Copper Giclops.
John struggles against these foes, demonstrating their power. At one point, he gets caught in the jaws of one of the creatures

, until it and its companion are blasted apart by Grandpa.
They drop lots of tar when killed. They also appear to leave their heads behind, but this might be an effect of the Blunderbluss that slew them.
Amber Basilisks
Edit
Found in the Land of Heat and Clockwork. Dave defeats several and picks up large amounts of Amber and Sulfur. Several of these have acquired working wings from Dave's prototyping. It is also possible that these could be Sulfur Basilisks.
Hivebent Basilisk
Edit
A purple Basilisk is seen in the trolls' session, engaging Gamzee Makara in battle on his planet LOTAM. It can be assumed that the other planets feature Basilisks as well, although we never see them.

Homestuck Characters

v

·

d

·

e

Pre-scratch
Kids

Heir of Breath
Seer of Light
Knight of Time
Witch of Space
John Egbert
Rose Lalonde
Dave Strider
Jade Harley

ectoBiologist [EB]




ghostyTrickster [GT]

tentacleTherapist [TT]

turntechGodhead [TG]

gardenGnostic [GG]

Post-scratch
Kids

| | | | |
| --- | --- | --- | --- |
| Maid of Life | Rogue of Void | Prince of Heart | Page of Hope |
| Jane Crocker | Roxy Lalonde | Dirk Strider | Jake English |
| gutsyGumshoe [GG] | tipsyGnostalgic [TG] | timaeusTestified [TT] | golgothasTerror [GT] |

Post-scratch
Trolls

| | | | |
| --- | --- | --- | --- |
| Maid of Time | Page of Breath | Mage of Doom | Knight of Blood |
| Aradia Megido | Tavros Nitram | Sollux Captor | Karkat Vantas |
| apocalypseArisen [AA] | adiosToreador [AT] | twinArmageddons [TA] | carcinoGeneticist [CG] |
| Rogue of Heart | Sylph of Space | Seer of Mind | Thief of Light |
| Nepeta Leijon | Kanaya Maryam | Terezi Pyrope | Vriska Serket |
| arsenicCatnip [AC] | grimAuxiliatrix [GA] | gallowsCalibrator [GC] | arachnidsGrip [AG] |
| Heir of Void | Bard of Rage | Prince of Hope | Witch of Life |
| Equius Zahhak | Gamzee Makara | Eridan Ampora | Feferi Peixes |
| centaursTesticle [CT] | terminallyCapricious [TC] | caligulasAquarium [CA] | cuttlefishCuller [CC] |

Pre-scratch
Trolls
Cherubs

| | |
| --- | --- |
| Muse of Space | Lord of Time |
| Calliope (Alt) | Caliborn |
| uranianUmbra [UU] | undyingUmbrage [uu] |

Guardians
Supporting
Characters
Sprites
Carapacians /
Exiles
Agents
Midnight Crew

The Felt

Denizens
Consorts
Underlings
Other
Black Queen · Black King · Skaian armies · Genesis Frog · Lusus · Ancestors (The Condesce) · Horrorterrors · Betty Crocker · Colonel Sassacre · Casey · Guy Fieri · Insane Clown Posse · Maplehoof · Rambunctious Crow · Halley · Serenity · MSPA Reader · Ms. Paint · Andrew Hussie · Sawtooth · Squarewave · His Honorable Tyranny · Calliope and Caliborn's parents · Angels · Canon fan trolls

EB/GT TT TG GG - GG TG TT GT - AA AT TA CG AC GA GC AG CT TC CA CC - UU uu
WV PM AR WQ WK - SS DD HB CD
Community content is available under
CC-BY-SA
unless otherwise noted.