The Bec Head Base is the fourth and final base in the Kids' Sburb session. Its appearance is derived from that of Becquerel, and sequentially, the Becquerel-shaped Cruxite Piñata broken by Jade.
The base is shown to have a Computer Terminal capable of contacting Dave.

It may contain other equipment such as an Appearifier, a Sendificator, or an as-of-yet unintroduced piece of Sburb technology.
It was, like the Eggy-Looking Base, broken when first found, with pieces scattered across the dead planet, likely because Jade's meteor was blown into pieces by Becsprite (which also reflects how the Bec piñata was broken).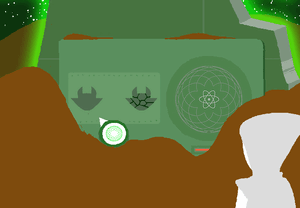 Eventually, the Windswept Questant inserted her Spirograph Key into the base's reformation machine; upon the machine's activation, the base was brought back into being in a similar process to that of the Eggy-Looking Base. It was used to replace the head of the Frog Temple, for reasons which, other than altering the desecrated look caused by 413 years of damage since the apocalypse and a Sentry Worm slicing off the original frog head

, currently remain unknown.
Later, while he was rigging the base with explosives, the Armaments Regent used its command terminal briefly

to influence Dave into taking revenge on Bec Noir; however, he was unsuccessful in doing so. In the end, the base is blown up by AR in an attempt to prevent Noir from escaping the universe.
Connection with Jade's Tower
[
]
Even though it was scattered as debris all over the planet, this base's original destination was Jade's house next to the Frog Temple. One possible explanation for Bec destroying the meteor that presumably carried the base instead of redirecting it is to ensure that the Bec Head Base successfully landed on Earth.