A QUEST OF FUTILITY THEN.
This page may not be done in a while - or ever, until the game that this page is related to has been beaten.
Please keep coming back to and updating it.
Cridea Jeevik is a young violet blooded troll living on Alternia during the time of Hiveswap. She is located on Jeevik Island, where Jeevik Week is being held.
In Act 1, a Jeevik Week poster outside of Xefros Tritoh's hive hints toward her existence; in Act 2 Xefros and Joey Claire catch a train with the intent of attending Jeevik Week. She is among Dammek's Chittr contacts, alongside Trizza Tethis and Fiamet. Her Chittr follower count seems second only to Trizza's, who has just one more.
Development
[
]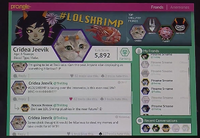 Cridea was first revealed to the public in a development screenshot featuring her profile on Chittr, then called Prongle. Among the beta graphics used for her profile were a cat with horns as an icon and a piece of edited Feferi Peixes fanart as a header image. Her posts in the screenshot showcased her interest in memes, referencing a Troll-lolol-con, "LOL Shrimp", and meme theft by another troll.
Trivia
[
]
The Jeevik Week poster in Act 1 is written in the Daedric form of the Alternian alphabet, rather than the new form used in most of Hiveswap.