Dammek's hive is located in Outglut. The hive is characterized by its overall uncleanliness and absurd security programs. Weapons, security panels and dirty laundry are a common sight in this building. It is the hive directly across from Xefros' hive.
Basement
[
]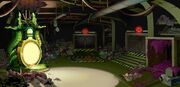 When Joey arrives on Alternia, she finds herself in Dammek's basement laboratory; it contains a second Cherub Portal, similar to the one found in Joey's attic in Half-Harley Manor. There is also a forklift, several crates, a storage elevator, a console and two large mechanical doors that, like most doors in Dammek's home, can be locked down. Through one of these doors is a bunker with a highly advanced computer and a wall of conspiracy theories, similar to Jude Harley's own in his tree house. Through this bunker is an air vent that leads to Dammek's Respiteblock.

Respiteblock
[
]

Dammek's respiteblock is covered in movie posters, weapons, books and discard drumsets. There is also a loft that leads to a hallway, that, in turn, leads to Dammek's kitchen. Dammek's Recuperacoon is located here.
Living Room
[
]
This room contains Dammek's TV and computer. The doors here are set to automatically go into lock-down when tampered with. This room also leads to the main exit of the hive; surveillance panels showing various parts of the hive and the back entrance of Xefros' hive are near the front door..
Kitchen
[
]
A simple kitchen, covered in dirty dishes and discarded food. It has a staircase that loops around to Dammek's loft space in his respiteblock.
Gallery
[
]
Hiveswap and Hauntswitch
Playable Kids
Joey Claire • Jude Harley
Playable Trolls
Xefros Tritoh • Dammek
Supporting Humans
Babysitter • Pa Harley • A. Claire • Mysterious Cult
Supporting Trolls
Trizza Tethis • Cridea Jeevik
Troll Call Trolls
Tyzias Entykk • Mallek Adalov • Daraya Jonjet • Barzum Soleil • Baizli Soleil • Nihkee Moolah • Chahut Maenad • Diemen Xicali • Skylla Koriga • Folykl Darane • Kuprum Maxlol • Amisia Erdehn • Polypa Goezee • Tegiri Kalbur • Tirona Kasund • Lynera Skalbi • Elwurd • Galekh Xigisi • Vikare Ratite • Boldir Lamati • Cirava Hermod • Tagora Gorjek • Ardata Carmia • Marvus Xoloto • Fozzer Velyes • Stelsa Sezyat • Wanshi Adyata • Bronya Ursama • Chixie Roixmr • Zebruh Codakk • Azdaja Knelax • Konyyl Okimaw • Karako Pierot • Marsti Houtek • Lanque Bombyx • Remele Namaaq
Other
Tesseract • The Lone Gunbirds • Green shadow monsters • Imperial Drone • Zoosmell • Cornibuster • D

o

c Scratch
Concepts
Troll • Extended Zodiac • Cherub Portal • Abilitech • Chittr • Scythian • Achievements
Locations (Earth)
Hauntswitch • Half-Harley Manor
Locations (Alternia)
Outglut • Dammek's hive • Xefros' hive
Acts
Hiveswap: Act 1 • Hiveswap: Act 2
Additional Media
Hiveswap Friendship Simulator (Vol. 1 • Vol. 2 • Vol. 3 • Vol. 4 • Vol. 5 • Vol. 6 • Vol. 7 • Vol. 8 • Vol. 9 • Vol. 10 • Vol. 11 • Vol. 12 • Vol. 13 • Vol. 14 • Vol. 15 • Vol. 16 • Vol. 17 • Vol. 18 • Epilogue)