Canon
 • 
Dubiously Canon
---
In Pesterquest

[

]
This article section is empty. Please help MSPA Wiki by contributing to it.
In Hiveswap Friendship Simulator

[

]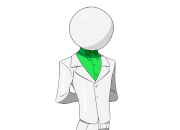 Doc Scratch first appears in Volume Thirteen, as the voice in one of Boldir Lamati's bad endings remarking, "Again? Must I do everything myself?" He later makes an appearance in the Epilogue of Friendsim, explaining to the reader that he gave them the insatiable desire to make friends in order to place all of the Troll Call trolls in the places they need to be.
In other media
[
]
Paradox Space
[
]