The Dollhouse is a location in Problem Sleuth. It is also a physical object located in Mobster Kingpin's office.
Hysterical Dame, Nervous Broad and "female" Ace Dick all start in the Dollhouse, locked in their rooms. With the help of tiny Ace Dick, they manage to overcome some weird puzzle shit and escape to engage in combat with MK himself.
After disappearing for a while, it reappears briefly, causing a "continuity blip."
The Dollhouse contains several portals to the City Streets which can be used both to travel and to alter your size greatly.
Madame Murel's Dollhouse
Edit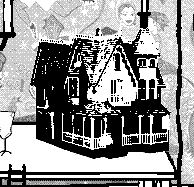 Madame Murel also has a Dollhouse, which she keeps in her Studio. It, too, contains a variety of portals as well as some other interesting items. MM also uses the Dollhouse to hold her Whores and the Gravity Brassier. That is, until MK broke in and "borrowed" it.
Strange enough, the Lazy Susan of Endowment is found in its pantry

and was subsequently tampered

with.

Community content is available under
CC-BY-SA
unless otherwise noted.