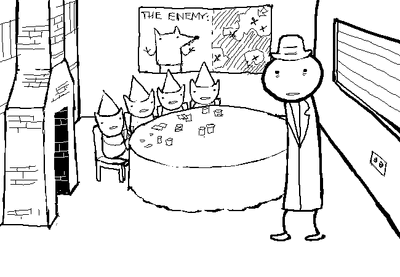 The elf room, which is connected to Pickle Inspector's office, is home to four elves named Ropo, Zobo, Foko, and Blod. Pickle Inspector uses the elf room as a sanctuary after his office begins flooding, and there is a hatch under the door that is used by Problem Sleuth. Blod begins crying, not because of Pickle Inspector's display of force with his Hairpin, but when he notices a Hunk Rump playing card in his hand. The elf room is later used as a way of moving skulls to the skull slots.
Community content is available under
CC-BY-SA
unless otherwise noted.