Eridan's hive is made up of the wreckage of a large teal sailing ship sitting on a tiny island in the middle of the sea. The windows appear to be a purple color, similar to the color of his blood, from the outside, and the walls are teal rather than the standard grey. His hive being a sunken ship may be a reference to and/or joke about his romantic failures. The building was later expanded by Feferi Peixes to reach the Seven Gates and eventually Skaia as required by Sburb, but was ultimately destroyed alongside Eridan's whole planet during Jack Noir's rampage.
Respiteblock
[
]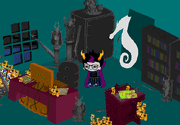 Eridan has many wizard-themed items in his room, including a fridge in which he stores wands. He has many maps for his plans to destroy the land dwellers, and lots of treasure from his Flarping days.
All visible rooms in the ship with windows have a pink-purple glow (like the lightning outside) coming out of them, although his respiteblock is not lit with this color of light.