Feferi's Hive is a palace. She is Royalty and her beautiful underwater Gothic castle shows the true extent of what carpenter droids on Alternia can do. The whole hive sits on top of a shell-like structure with many entrances.
The building was later expanded by Sollux Captor to reach the Seven Gates and eventually Skaia as required by Sburb, but was ultimately destroyed alongside Feferi's whole planet during Jack Noir's rampage.
In the Medium
[
]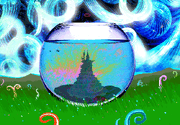 In the medium, Feferi's hive is located in a large fishbowl. The fishbowl is surrounded by green grass and brightly colored swirly plants. Her first gate can be seen above the hive.

Respiteblock
[
]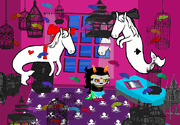 Feferi's Respiteblock, under the sea. Familiar-looking aquatic hoofbeasts swim around with various, multicolored cuttlefish that she has selected for "culling". Since this is a word which Feferi wishes to redefine as "caring for the unfit and infirm", she is basically just keeping them as pets. She has many cages for the cuttlefish, yet they don't seem to be doing the job of holding them. The walls are of a similar tyrian purple to her blood color, and she has a purple carpet that appears to sport a squid-pattern. She also appears to own an Alternian iPad, if we take a look on her desk.