Canon
 • 
Dubiously Canon
---
In Pesterquest

[

]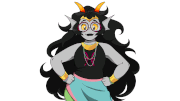 Feferi Peixes first appears in Pesterquest in route 2 of Volume 10.
She is a part of the Nautical Aristocracy, being the heir apparent to the title of Empress of the Alternian throne.

From the reader's point of view, Feferi's story in The Homestuck Epilogues picks up from where her Canon biography ended.
Feferi only appears in the Candy timeline as a ghost, where she and Eridan get redeemed by Gamzee by having them apologize to each other, get milk sprinkled upon them, and forced into a kiss.

In other media
[
]
Paradox Space

[

]
Gallery
[
]
The Homestuck Epilogues
Epilogues
Prologue

| | |
| --- | --- |
| Meat | Candy |
| Meat, Epilogue One | Candy, Epilogue One |
| Meat, Epilogue Two | Candy, Epilogue Two |
| Meat, Epilogue Three | Candy, Epilogue Three |
| Meat, Epilogue Four | Candy, Epilogue Four |
| Meat, Epilogue Five | Candy, Epilogue Five |
| Meat, Epilogue Six | Candy, Epilogue Six |
| Meat, Epilogue Seven | Candy, Epilogue Seven |
| Meat, Epilogue Eight | Candy, Epilogue Eight |
| Meat, Postscript | Candy, Postscript |

Homestuck Characters
John Egbert • Rose Lalonde • Dave Strider • Jade Harley • Jane Crocker • Roxy Lalonde • Dirk Strider • Jake English • Aradia Megido • Tavros Nitram • Sollux Captor • Karkat Vantas • Kanaya Maryam • Terezi Pyrope • Vriska Serket • Gamzee Makara • Eridan Ampora • Feferi Peixes • Aranea Serket • Meenah Peixes • Davepetasprite^2 • Calliope • Alt Calliope • Caliborn • Lord English
Original Characters
Harry Anderson Egbert • Vriska Maryam-Lalonde • Tavros Crocker • Swifer Eggmop • Cliper Borden • Barack Obama
Concepts
Canon • Ultimate Self • Troll • Cherub • Earth C
Related works
Homestuck • Homestuck^2: Beyond Canon • Hiveswap • Hiveswap Friendship Simulator • Pesterquest