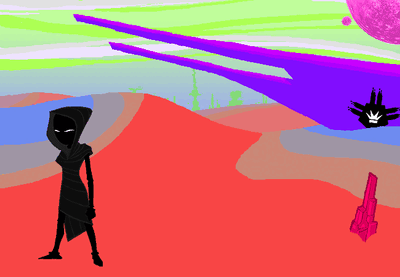 Alternia in the future after the Reckoning and Vast Glub wiped out troll civilization, leaving the Condesce 612 sweeps away

. It was repopulated by exiles, including the future Midnight Crew and the Banished Quasiroyal

(the future Snowman). Eventually, 612 sweeps after the Reckoning, it is destroyed, along with the rest of the trolls' universe, as a result of Snowman's death.
Midnight City

is a city created by

Spades Slick and the rest of the Midnight Crew following their exile. Slick claims primary responsibility for the city, stating "[he] made this town what it is", and this is confirmed when Die temporarily removes

him from the timeline, and the city reverts to a rocky, purple desert.

The city is home to several casinos, including one of Spades Slick's favorites, which was knocked over

by the Felt just prior to the intermission, and possesses at least one grocery store.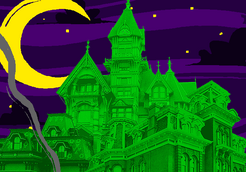 A mansion belonging to Lord English

, built over a command station

in the outskirts of Midnight City.
Main article: Trolls' Bases
Main article: Alternia's Moons
A green city on Alternia's green moon.

A green tower in Felt City with a large white sphere on top. Doc Scratch's apartment

and the young Handmaid's room

are located on the top floor

. The Handmaid's room contains a fenestrated wall leading to Hussie's study.
D

o

c Scratch refers to a "city of slain exiles" when describing what the Condesce would find in post-apocalyptic Alternia. it's not clear if this refers to the town on Alternia's surface or the city on the green moon.
Community content is available under
CC-BY-SA
unless otherwise noted.