Gamzee Makara's hive is located on the beach, due to the fact that his lusus is semi-aquatic and reflecting his blood caste's position just below the seadwellers. His hive is oddly shaped with a lopsided structure and crooked walls, and is topped with an umbrella the same shade of yellow as his windows appear to be from the outside.
The building was later expanded by Tavros Nitram to reach the Seven Gates and eventually Skaia as required by Sburb, but was ultimately destroyed with the rest of the trolls' planets during Jack Noir's rampage.
Respiteblock
[
]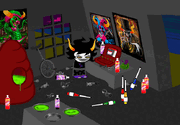 Gamzee's Respiteblock is a location in Homestuck, or rather its Alternian mirror Hivebent. Similar to some of the other trolls' rooms it's plain grey and has a 12 paned window, but unlike theirs, Gamzee's has a door leading straight out onto the beach. On the walls there are also several posters depicting Juggalo and clown-related imagery, one of Gamzee's primary affectations. The floor and other seen surfaces are littered with his clown paraphernalia, like horns, juggling clubs, a unicycle and an endless supply of Faygo. On one counter there are sopor slime pies that Gamzee apparently baked, even though it looks like they came straight out of his red beehive-shaped Recuperacoon. A husktop of the same color was located on another table but it was promptly captchalogued.
The posters on Gamzee's walls are of the Carnival of Carnage, the Ringmaster, and the Riddlebox, the first three Joker's Cards of Insane Clown Posse's first three albums.