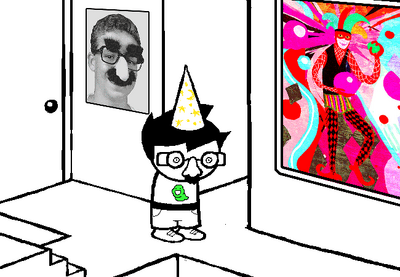 Harlequins are a recurring motif in Homestuck. Though John

and

his friends

frequently refer to them as clowns, his father is quick to correct anyone who would venture such brazen assumption

.
In John's house
Edit
John's house is decorated with various figures and paintings of harlequins. John hates them

, assuming they are related to his Dad's interest in being funny. He later discovers, however, that drawings of harlequins on his walls he assumed were the work of imps

were actually already present before he entered the Medium

. The result of the placement of a harlequin doll within John's mind

by Gamzee Makara, Rose speculates that John's Dad only filled their home with harlequins because he took the drawings to mean John was interested in them

.
Because of his Dad's assumption that he enjoys harlequins, John receives a harlequin doll for his 13th birthday, which is later prototyped, thus lending its image to every single one of the underlings and carapacian outfits in the incipisphere, including Jack Noir. Jack also seemingly hates harlequins, and the Black Queen's insistence that he wear harlequin attire contributes to his ascent to demonhood

.
Community content is available under
CC-BY-SA
unless otherwise noted.