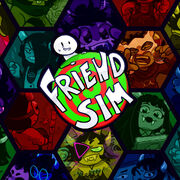 Hiveswap Friendship Simulator's volumes contain music tracks for each unique route, as well as a few bonus tracks. Many of these tracks were re-purposed tracks from existing Homestuck music albums, or even from the Hiveswap soundtrack, in the case of the previously unreleased "Old Secret". As the volumes progressed however, an increasing number of music tracks used were original compositions seemingly written with the friendsim route and corresponding troll(s) specifically in mind (although apparently some were tracks for development or cutscene use in unreleased Hiveswap acts). The majority of these were composed by veteran Homestuck musician James Roach, with some tracks being collaborations with Toby Fox.
On December 14th, 2018, an official album was released on the Homestuck bandcamp ♫, Hiveswap Friendsim, consisting all of the music tracks worked on by Roach and Fox, with the exception of Zebede's theme, "beekeeper who? i dont know her. ♫". It has been stated that this track will instead appear on the Hiveswap Act 2 OST.
The following page lists all music used in Hiveswap Friendsim, including but not limited to the tracks included on the eponymous album.
"Game Over" by James Roach (no audio recordings available)
"Victory" by James Roach (no audio recordings available)
Daraya Jonjet: (this title was too long) ♫ (also known as "▲trollkind cannot gain anything without first giving something in return. to obtain something of equal value must be lost. that is alchemys first law of equivalent exchange. in those days, we really believed that to be the worlds one, and only, truth.▼")
Nihkee Moolah:
Community content is available under
CC-BY-SA
unless otherwise noted.