The Intermission is titled Don't Bleed on the Suits.

It follows the Midnight Crew as they try to locate and crack Lord English's secret vault and exact revenge upon their rival gang, the Felt.
Click the "

" to open the page from Homestuck.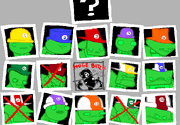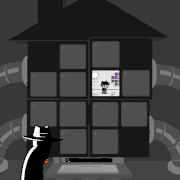 Spades uses the crowbar to force open the vault door, sending him into a timeline where the entire mansion has been destroyed and, of the entire

Felt

and Midnight Crew, seemingly only he, Sn

o

wman and L

o

rd English remain alive.
Spades goes into the vault. Inside he finds only an opening on the floor with a spade keyhole. Spades produces his Spade Key. He would peek through the keyhole, were it not actually a barcode scanner.
The Spade Key becomes the Blackjack Rules Card.
Spades' Rules Card is shot by Sn

o

wman. She then tears off his arm and shuts the safe. Spades now is unable to open the Spade-Emblazoned Safe-in-a-Safe.
Spades flips his sprite, thereby recreating the barcode needed to enter. Scanning it opens a hatch with a Spirograph on it. Spade climbs down the ladder beneath it to find a terminal, one very similar to that which the exiles use to command the kids.
Spades begins to type commands into the computer, talking to a young troll on one of the twelve screens.
The Intermission ends with a page that mirrors another one, wondering whether this has all been a waste of time.