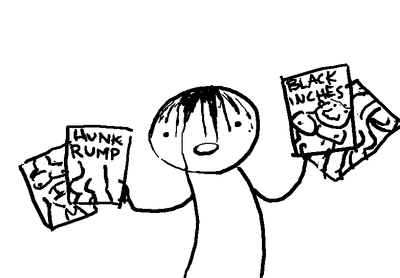 Hunk Rump is a popular brand of gay pornography magazine and an ongoing gag featured throughout the MS Paint Adventures. There are also Hunk Rump cards

and calendars

as well as a different brand of magazines called Black Inches and Hunk's Junk

. Hunk Rump pornography has been known to make Elves cry.
In the continuation of Jailbreak, an issue of Hunk's Junk is forged into a mighty Paper Sword.
In Bard Quest, when the Bard asks the blacksmith for +5 issues of [his] finest gay porn magazines

he is thrown out of the store with a Hunk Rump magazine.
In Problem Sleuth extra number 26, a trading card game addition to the franchise is added in the form of Hunk Rump: The Gathering

.
In Homestuck, Bro's website "plush rump," may have been inspired by the Hunk Rump magazines. Furthermore, Snowman owns a whip called Black Inches. Clubs Deuce from the trolls' session of Sgrub carries an issue of Black Inches in his inventory. The cover of Homestuck Vol. 9 depicts Jake English holding a Hunk Rump card in his hand, along with normal playing cards, much like the Problem Sleuth donation command.
Incidentally, a fan had registered http://www.hunkrump.com/ in homage to MS Paint Adventures, but it has since been deleted.
Community content is available under
CC-BY-SA
unless otherwise noted.