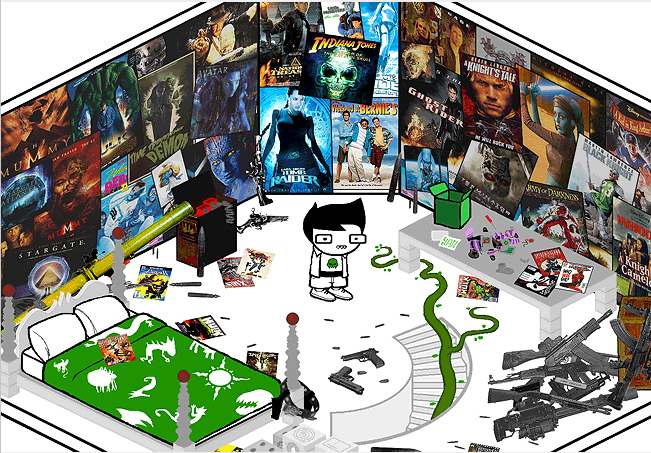 Jake's Room is a location in Homestuck. As evidenced by the name, it is where Jake English resides. His walls are almost completely covered with movie posters, slightly similar to John, except Jake's posters are all recent, while John's are older and we've got to admit that his movie taste is pretty shitty interesting. One of these posters, 'The Time Travelling Demon', is a reference to Lord English. Jake evidently has atrocious organizing skills when it comes to guns, evidenced by his wide collection of incredibly dangerous pistols and firearms strewn all over every which way and that. Jake's HONORARY PLACRONYM, with his name carved into it about two and a half years ago, lies in one of his gun piles on the lower right side of the room. Jake's bedsheets are green and white, with various creatures and objects from the story including the lusus of several trolls as well as a sun, which may represent either Heroes of Light or the Green Sun. The bed, like Jade's, also resembles a Quest Bed, with the four spires in each corner. Jake notes that is supposed to light up under certain circumstances, but has never been able to figure out how. Jade's spires lit up each time her Dreambot was active. Jake has a desk kept in the upper right portion if his room, where he presumably builds things such as John's bunny, Terry Kiser.
Community content is available under
CC-BY-SA
unless otherwise noted.