The Land of Quartz and Melody, abbreviated as LOQAM, is Aradia Megido's planet in the Medium, and her starting place in the game. The planet is covered in enormous quartz crystals of blue and purple. The buildings are based on musical boxes, one example featuring a drum and a metal comb. A close up on the music box buildings can be seen in [S] Roxy: Sleepwalk

. Although it is never seen during the events of Hivebent, the planet also presumably houses the trolls' scratch construct, according to this page

which depicts a similar object to the Pre-Scratch Trolls' scratch construct.
Its relation to Aradia's title, the "Maid of Time", may be related to the fact that quartz is used in timepieces, and also that music requires one to keep time. The underlings of this planet are a cyan color. This color might represent quartz.
After Aradia arrived at this planet, Equius Zahhak quickly left his own planet to deliver her new robot body to her here. The two then explored this planet, until Aradia started time travelling. Equius then left to the next planet. LOQAM was destroyed with the other eleven planets when Jack Noir rampaged through the troll session.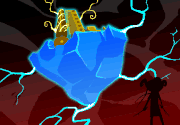 Damara Megido's land may have been the Land of Quartz and Melody or a very similar land, as she is shown in one panel activating the trolls' scratch construct, the Cardinal Movement, which looks like one of the music boxes from this land atop a quartz platform. This may further imply that the pre-scratch trolls had the same or similar lands to their dancestors.