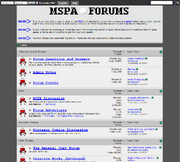 MSPA Forums was the website Andrew Hussie used to take his reader's commands to use in the MS Paint Adventures comics. It branched in 2007 from a small gathering of artists and miscellaneous people of the Penny Arcade forums, and massively increased in size during Homestuck's duration; the ammount of traffic made Andrew stop taking user commands in 2010 starting by this page

, with the only exception of naming the Trolls, and started doing the story with less direct influence. Flash animations and music albums were also organized on a hidden part of the forums for the creative team up to its closing.
Since March 29th 2016 when Homestuck's Omegapause ended (two weeks away from the comic's end), the site went abruptly offline; its main page was initially replaced with a plaintext page claiming that passwords had been compromised, but the forums could still be accessed by typing the urls of the individual subforums. Users flooded the questions subforum looking for answers, but received none. The main page was then replaced by one claiming the site was down for maintenance and a few days later, the entire forums vanished from the website. The site was shown to be closed for maintenance until February 2018, when the domain now redirects to the MS Paint Adventures' website. In October 2019, it was revealed that the forum's data got corrupted during one of the many server transfers, and thus all non-archived posts are virtually gone.
Many fan adventures, community projects and miscellaneous posts got lost in the process. After its passing other unofficial communities took its mantle, albeit with smaller userbases.
Community content is available under
CC-BY-SA
unless otherwise noted.