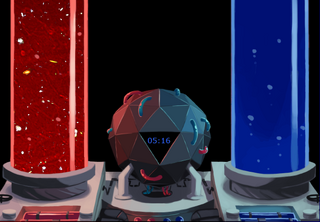 The Mysterious Countdown appears in Act 5 Act 2. Various events are marked against this clock, with 00:00 marking a Critical Moment. What the critical event was had been unknown during most of the countdown itself. Eventually, it was revealed to be the destruction of Bilious Slick (specifically, the one embodying the kids' home universe) through Jack Noir. The light from the Green Sun finally reaches the trolls' Incipisphere after travelling through the Furthest Ring for an unknown period of time.
The destruction of Billious Slick is circumstantially simultaneous to two other events, namely the death of Snowman​ at the hands of Spades Slick and the explosion of the tumor. Since both the countdown displayed on the tumor and the mysterious countdown start at 10:25 and reach 00:00 at a circumstantially simultaneous moment, it could be argued that the moment John finds the tumor and other moments in the kids' session may be circumstantially simultaneous to the respective events in the trolls' session that are listed on the mysterious countdown.
Events that are marked on the Mysterious Countdown are:
Community content is available under
CC-BY-SA
unless otherwise noted.