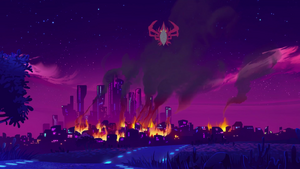 Outglut is a subgrub within the troll city of Thrashthrust on Alternia. It is largely populated by lowblooded trolls, including the revolutionaries Xefros Tritoh and Dammek. It is characterized by its poor living conditions and mediocre infrastructure.
During the events of Hiveswap: Act 1 the subgrub is attacked by Imperial Drones under the orders of the royal Heiress, Trizza Tethis, culling or kidnapping a good number of its residents. During this drone attack, Dammek activated a Cherub-esque portal in his basement, causing a sizable explosion and sending him to Earth and leaving a confused Joey Claire in his place.
Outglut also appears to be the location in which Hiveswap Friendship Simulator takes place.
Locations
[
]
Dammek's hive
[
]
Dammek's hive is located directly across from Xefros' hive.
Xefros' hive
[
]
Xefros' hive is located directly across from Dammek's hive.
Ardata's hive
[
]
Ardata's hive is situated in an unknown location within Outglut.
Old Watchtower

(Dubiously Canon)

[

]
An abandoned watchtower on Outglut's outskirts, this structure, although long having fallen into disrepair, serves as the hideout of the MSPA Reader in their incarnation as the Hiveswap Friendsim protagonist.
Trivia
[
]
Gallery
[
]
Hiveswap and Hauntswitch
Playable Kids
Joey Claire • Jude Harley
Playable Trolls
Xefros Tritoh • Dammek
Supporting Humans
Babysitter • Pa Harley • A. Claire • Mysterious Cult
Supporting Trolls
Trizza Tethis • Cridea Jeevik
Troll Call Trolls
Tyzias Entykk • Mallek Adalov • Daraya Jonjet • Barzum Soleil • Baizli Soleil • Nihkee Moolah • Chahut Maenad • Diemen Xicali • Skylla Koriga • Folykl Darane • Kuprum Maxlol • Amisia Erdehn • Polypa Goezee • Tegiri Kalbur • Tirona Kasund • Lynera Skalbi • Elwurd • Galekh Xigisi • Vikare Ratite • Boldir Lamati • Cirava Hermod • Tagora Gorjek • Ardata Carmia • Marvus Xoloto • Fozzer Velyes • Stelsa Sezyat • Wanshi Adyata • Bronya Ursama • Chixie Roixmr • Zebruh Codakk • Azdaja Knelax • Konyyl Okimaw • Karako Pierot • Marsti Houtek • Lanque Bombyx • Remele Namaaq
Other
Tesseract • The Lone Gunbirds • Green shadow monsters • Imperial Drone • Zoosmell • Cornibuster • D

o

c Scratch
Concepts
Troll • Extended Zodiac • Cherub Portal • Abilitech • Chittr • Scythian • Achievements
Locations (Earth)
Hauntswitch • Half-Harley Manor
Locations (Alternia)
Outglut • Dammek's hive • Xefros' hive
Acts
Hiveswap: Act 1 • Hiveswap: Act 2
Additional Media
Hiveswap Friendship Simulator (Vol. 1 • Vol. 2 • Vol. 3 • Vol. 4 • Vol. 5 • Vol. 6 • Vol. 7 • Vol. 8 • Vol. 9 • Vol. 10 • Vol. 11 • Vol. 12 • Vol. 13 • Vol. 14 • Vol. 15 • Vol. 16 • Vol. 17 • Vol. 18 • Epilogue)