For the reality in which Homestuck takes place, see paradox space.
Paradox Space, often abbreviated as PXS, is a sister project to MS Paint Adventures that was launched on April 13, 2014, to celebrate Homestuck's fifth anniversary. The site features comics that detail unseen events in paradox space and hypothetical "what if?" scenarios. The canonicity of Paradox Space comics has been addressed by Hussie as follows:
"For any given story, it is either "Definitely Not Canon" or "Possibly Canon". But no story should ever be regarded as "Definitely Canon", unless Homestuck itself confirms those events retroactively in some manner"

— Andrew Hussie
The launch of Paradox Space boasted six pages in one day, and the subsequent standard schedule has been set as one page per weekday. After May 12th, 2014, occasional "2X UPDATE COMBO WEEKS" would occasionally occur, wherein there would be two pages every weekday, with the two pages going up at different times.
After 5/16/2014, Paradox Space used a tag system to give credit to the artists and writers, as well as to categorize story pages and make yet more side jokes that could not be covered with alt text.
Paradox Space went on an indefinite hiatus on April 13th, 2015 and has not updated since. As of April 2018, the comics moved to http://hs.hiveswap.com/paradoxspace/, resulting in the removal of the alt text, tags, and news posts.
"Holiday Activity Pages" (4 pages, story and art by David McGuire) Happy Holidays! Here's some fun activities to do!
The first page presents a puzzle: Rose, Kanaya, WV, Karkat, Dave, Terezi, and Gamzee are all giving each other gifts. The reader is given hints (from John, Davesprite, and Jade) to determine who's giving gifts to who. The second page is PM in a Christmas sleigh, with Bec Noir serving the role of a reindeer. They must find their way through a maze of two bec heads to reach the meteor. The third page is a nonogram puzzle which, when completed, shows "the only thing Nepeta wants for Christmas". The fourth page features a plethora of zilly santas which the trickster B2 kids were responsible for making. The puzzle in this one is to find out which two are exactly alike.
"Vrisky Business" (At least 5 pages, story by Andrew Hussie, art by Mallory Dyer) PXS Book 2 is up for preorder! There's a special bonus story included, here's a preview!
A story exclusive to Paradox Space Book Two that details how Vriska obtained her arm from Equius.
Many Paradox Space pages featured alt text captions, which could be viewed by hovering one's cursor over the image on a desktop computer. Anyone on the PXS team could add, alter, or remove alt text; a result of this alt text not be added to a page until several stories later, causing it to be "missed" unless old pages are re-read. As it could be retroactive, in some cases the alt text for a particular page may be a result of the fandom's comments or reactions to the page.

Many of the tags on the comic pages identified the writer and artist of the story. Others were helpful by identifying characters present on the given page. However, some of these tags, the "unsaturated" ones, were merely additional notes and (most often) jokes. This section references and archives those tags.
John's Birthday
Edit
According to the news post by Kory Bing, this comic takes place in the same zoo previously seen in KC Green's Gunshow and Horribleville.
"Bears with guns" and "seals with grenades" are callbacks to the aforementioned comics.
The kid with the toque and glasses appears to be a young KC Green.
Prototyped
Edit
The glass shards' captchalogue codes on page 1 read

420BLZ

(being posted just after 4/20) and

8UTT5

This story marks the first time that Jack Noir has on-screen dialogue, rather than his speech being described entirely through narration.
This story was originally going to be titled Armless, but it was decided that that made the conclusion too obvious.
Con Faire
Edit
The captain at the beginning, judging by the background color of their text box, as well as their status as captain, is possibly the Helmsman.
The alt text might possibly be a jab at fans on the forums who produced a massive critical backlash at John's Birthday, the first non-canon comic.
The curtains and general stage setup resemble both Caliborn's Homosuck site theme change and the Wizard of Oz stage in Jade and Calliope's dream bubble.
Terezi keeps changing the location of her blindfold: she wore it normally, as a bandana, as a headband, as a scarf, as a belt/dragon cape tail, and as a different style of scarf.
The alt text on page 8 was added retroactively in response to some forum comments.
Summer Sea Fun
Edit
This comic may be a reference to this exchange between Damara and Meenah in Openbound part 3:
MEENAH: holy mackerel gettin info outta yous like prying a pearl from a slutty murderous clam

DAMARA: Clam will not produce the pearl. You do not know anything of the sea.

MEENAH: yeah i know clams dont make pearls!!! look i just misspoke it was a hasty burn ok
Ace Sleuth Jane
Edit
This comic is missing character tags for Jane and GCAT.
GCAT is referred to as a female here, despite being referred to as male in Homestuck. (This may be a reference to an ongoing gag of calling non-speaking pets by a different gender each time they are shown, or that referring to GCAT as male would have compromised the phrase used by Jane "Just the Facts Ma'am", the classically misquoted line by Detective Joe Friday of Dragnet fame.)
Party Crashers
Edit
"A Fun Day for Jaspers
Edit
Killswitch Engage
Edit
The first page of this comic was originally uploaded without typing quirks (for ease of reading), but they were added in the next day after a large response from the fanbase.
John's arm appears on the third page.
This is the first comic where Equius' horn is broken.
Indemnity Double Reacharound
Edit
Doctor Honeytongue being a former military medic is probably a reference to Dr. Watson, Sherlock Holmes' assistant/friend. He also wears a similar outfit to Dr. Watson.
The Town Mouse and the Country Mouse
Edit
The title of this comic is the same as an existing fable by Aesop. The plot also seems to draw inspiration from this story.
Her Pale Passions
Edit
The book Rose is reading, in the second to last panel, has a picture of Equius on it. The only reason for this is because Phil Gibson just really likes Equius.[1]
Night at the 100dseum
Edit
The "items of vague historical importance" room features: a portrait of The Condesce posing like Joseph Ducreux, Dualscar's horns, GHB's clown horns (presumably), GHB's spiked club, and a Shroud of Turin reminiscent image of the Signless, which Karkat refuses to humor Equius by acknowledging.
On the last page, Equius's horn is broken for the second time in PXS.
Hospitality
Edit
Mother & Grub
Edit
This Halloween comic is a tribute to the work of Japanese horror manga creator Junji Ito. Specifically, it is based on his story TOMIE.
The Daedric writing on page five reads "Trapped in the Homestuck factory send help 10292014", referencing a common joke and also the date the page was released.
The Inaugural Death of Mister Seven
Edit
Speaking to his vanity, countless pictures of

Itchy

are seen framed on the walls of the mansion in the background of several panels throughout the comic.
In this art style, all of the members of

the Felt

have slightly differing skintones, and the pairs of leprechauns sharing the same hat color also have the same skintone.
Secret Sufferer
Edit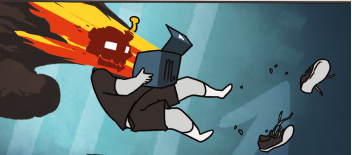 The thirteenth troll that Vriska killed one year was Poinko, the oliveblood fantroll of Phil Gibson, the writer of this comic.
This is the third time Equius breaks his horn in a Paradox Space comic (although this time it was broken to begin with), and the second that Phil Gibson has been involved in.
Lady Grimme and the Red Knight
Edit
Spritecon
Edit
More notable characters have appeared in Spritecon than in any other Paradox Space comic, albeit all in sprite form. A full list can be found on the List of Paradox Space characters page.
Poinko makes his second appearance on page 4 of this comic, awarding Calliesprite in what is likely the costume contest.
Different titles of the 12 events can be seen behind Nannasprite, including:

"You've Been ??? with ??? Nemesis" (Possibly "Prototyped with your")
"What to Expect When You're Expecting A Null Session"
"Costume Contest!"
"Beep! Pew! Universe Birthing Video Games Aren't Just For Kids Anymore!"
"Signing: That Orange Weirdo"
"Alchemy Workshop"
"Horrorterrors of the Furthest Ring and YOU"
"Cryptic Wingdings: A Lesson in Parsing Sprite Speak"
"Red Herrings: An Afternoon with Dr. David Brenner"
"Riddle Workshop," which is supposedly about "How to hold back just enough information so that your player doesn't think your useless"
"Prospit Vs. Derse Chess Club Meet-Up"
Signing: Oh Hey.... Hey There, Cal
Relation Shipping
Edit
This is the fourth time Equius breaks his horn in a comic.
Summerteen Romance
Edit
This is the 51st comic of Paradox Space and has 51 pages.
The comic ended on 4/13/15.
The first page was later edited with text around the purple cicada.
The artificial lake is named "Lake Hooyoogunnkahl", a reference to Ghostbusters.
The 31st page originally showed the sequence of Tavros' transformation, but it was blurred out due to the body horror seriously disturbing some of the readers. It also received a content warning before once again being changed to the current version, with Tavros' transformation being covered up by Dave's description of events and having Mierfa's makeup removed. Dave's text in the newest version was written by Andrew Hussie himself. The original, uncensored image is accessible through a link at the bottom of the page.
Karkat and Dave reference the name of the website on page 12.
Vrisky Business
Edit