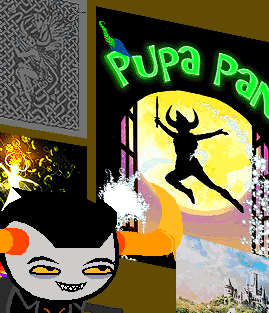 Pupa Pan is a mythological figure on Alternia. Tavros Nitram admires him for his confidence and ability to fly. His tale seems to have been inspired by the actions of Tavros' ancestor, the Summoner. Specifics on his story are not known, but his tale seem to involve a fairy and a pirate, strongly indicating, that he is the troll equivalent of the human's Peter Pan.
Vriska's ancestor seems to "play" the role of Captain Hook in this story. And she may well be the tyrant lacking an arm and an eye, mentioned by Aradia.
Curiously, the actions of the Summoner would ultimately result in the banishment of all adult trolls from Alternia, creating a world where only children live, referencing Neverland from Peter Pan's story.
Rufioh Nitram was based on a character, Rufio, from the movie Hook (a Peter Pan movie), played by Dante Basco.
On the poster in Tavros's room, he has the same cap and feather that John had upon reaching the Ectobiolobabysitter rung on his echeladder.
Community content is available under
CC-BY-SA
unless otherwise noted.