Canon
 • 
Dubiously Canon
---
For the pre-scratch version of this character, see Rose Lalonde.
Rose Lalonde is the ancestor of Roxy Lalonde - and the ectobiological child of both Roxy and Dirk Strider - though Roxy regards her as her "MOM"

.
Like her pre-scratch counterpart, Rose was a powerful seer and practitioner of "wytchkkrafts"

, possessing "VISION OMNIFOLD"

and frequently causing photography of her to be blacked out

.
Biography
[
]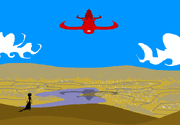 In Jane Crocker and Jake English's time

Rose was already a highly successful author, having written the best selling Complacency of the Learned series

. She foresaw Roxy's arrival by meteors hundreds of years in the future and stocked her home in preparation, including with a sizeable supply of liquor

.
Inspired by Jake's grandmother, Rose and her brother Dave rebelled against the Condesce following her gradual takeover of Earth from 2x3prong Day; however her books seemingly contained references to the witch and her origins even before the alien tyrant revealed herself

, implying she also had some foreknowledge of the Condesce's existence and malevolent plans.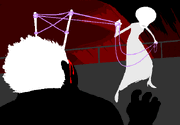 As a more direct act of rebellion, Rose later hunted down and killed the Condesce's High Chaplain of Interstellar War Guy Fieri, gouging out his eyes with her needles

and riding his corpse down the bloodied waters of Niagara Falls

in a way mirroring her younger self's method of slaying ogres

. Ultimately she perished in an attempt on the life of the Condesce herself

, her side pierced with the tyrant's trident.

Gallery
[
]