Canon
 • 
Dubiously Canon
---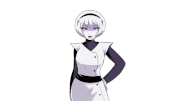 Rose appears in Volume Thirteen: Leet Haxx. She meets the player at the Lalonde residence upon Jane Crocker's directions, and the player initially assumes that she has been posing as Roxy in order to catfish Jane.
If you accuse Rose of catfishing, she remarks upon how

"

cute

"

[1] she finds your drama, and assures you that though she has come across Jane's family in her work, she has not interacted with Jane directly. Prompting the player to question their own meddlesome activities, Rose closes the door and turns them away.
If you think that there must be something else going on, you realise that Rose must be Roxy's mother and ask her if Roxy is home. Rose tells you that they aren't, and won't be for some time, prompting the player to search for them in the future.
Later, if you choose to take Roxy back in time to visit her, she reacts with surprise, and her house is suddenly attacked. Taking Roxy back to the future, the player finds that the Lalonde residence has changed, implying that Roxy and the player's presence in Rose's time caused her to be attacked and possibly killed by the Condesce earlier than in the original timeline.
Rose's battle with Guy Fieri and later with the Condesce is mentioned in 32-2024-TheDoubleJuggaloPresidency.txt, which states that Rose and Dave were unable to defeat the Condesce because her genetic research had reached full potential.
Community content is available under
CC-BY-SA
unless otherwise noted.