Dubiously Canon
---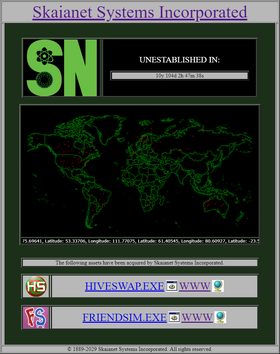 On January 1, 2019, the former What Pumpkin twitter account and the associated What Pumpkin web domain whatpumpkin.com, were modified such that the web domain redirects to a new web address, skaianetsystems.com. The twitter account was changed to a blank account sharing the same name as the Skaianet Systems domain, and containing the link to the website.
The website, entitled Skaianet Systems Incorporated, appears to be an in-universe webpage dedicated to the corporate entity in Homestuck known as Skaianet. The website contains a countdown unestablishment timer, similar to the one in Homestuck

, with the exception that the website's timer is counting down until April 13th, 2029, whereas the unestablishment timer in Homestuck counted down to the day of The Reckoning on Earth on that same date in 2009. The 2029 date would be the 20th anniversary of Homestuck, and is also a reference to the real world asteroid 99942 Apophis, which, notably, was in the past believed to have an outside chance of impacting with the Earth on April 13, 2029, the same date as that to which the timer is counting down. References to Apophis were located elsewhere in the site's hidden files, of which there were many, stemming from a hidden link in the webpage's HTML source code.
Hidden content
[
]
The Skaianet Systems webpage contained a link in its source code which directed to a series of files, including articles about the history of Skaianet, a hand-drawn nsfw Sweet Bro and Hella Jeff comic, and a .zip file full of shitty wizard pictures. Most of these links have since stopped functioning; however, copies of their contents have been saved by fans.
History documents
[
]
The "history" files constitute a collection of 36 text files. The narrative contained in these documents consists detailed explanation of the machinations of the Condesce in both the pre- and post-Scratch universes, and how several notable historical figures were involved in her rise to power, the founding of Skaianet and Crockercorp, and other events that impacted the Homestuck canon. It includes origins for Dad, Guy Fieri, Insane Clown Posse, Colonel Sassacre (revealed to be the same person as Mark Twain), and Harry Anderson. Other implicated historical figures include Charlie Chaplin, Albert Einstein, Laurel and Hardy, and Adolf Hitler, who all serve various roles working both for and against the Condesce. Steve Bannon, and Donald Trump also play a role, with the former two being genetically related to various Homestuck characters. Furthermore, Calliope and Caliborn's mother appears as a major opposing figure to the Condesce, and existed on Earth for sometime under the name "Calamity Jane".
In Homestuck: Book 3, Andrew has commented about Colonel Sassacre being Mark Twain and mentions having written an "extremely elaborate backstory" about Crocker's schemes on Earth, suggesting that these documents were written a considerable period of time before their release. This was later confirmed by Hussie during his apology regarding the content. Given that the "history" files were quickly removed, and later denounced by Hussie in his apology as "ill-advised nonsense", their canonicity is likely to be highly questionable.
The history files are as follows:
01-1863-Calamity.txt
[
]
02-1864-Centralia.txt
[
]
03-1873-TrainRobbery.txt
[
]
04-1876-RIPJamesBros.txt
[
]
05-1881-Crocker.txt
[
]
06-1889-Skaianet.txt
[
]
07-1895-Einstein.txt
[
]
08-1896-FredKarnosArmy.txt
[
]
09-1903-PatentOffice.txt
[
]
10-1910-JaneAndJake.txt
[
]
11-1923-JakeLeaves.txt
[
]
12-1926-RIPHoudini.txt
[
]
13-1927-PuttingPantsOnPhilip.txt
[
]
14-1931-JakeReturns.txt
[
]
15-1933-HitlersPromotion.txt
[
]
16-1942-AnnDunham.txt
[
]
17-1945-WWII.txt
[
]
18-1955-RIPEinstein.txt
[
]
19-1957-RIPHardy.txt
[
]
20-1961-NextPhase.txt
[
]
21-1964-TheFieriClones.txt
[
]
22-1965-LaurelsLastStand.txt
[
]
23-1965-2009-SkipToTheEnd.txt
[
]
24-1863-1965-PostScratchTimeline.txt
[
]
25-1965-HarryAdoptsFieriAgain.txt
[
]
26-1977-ChaplinsLastStand.txt
[
]
27-1989-ICP.txt
[
]
28-1996-JaneAndJake.txt
[
]
29-2008-Obama.txt
[
]
30-2011-Rebranding.txt
[
]
31-2016-Trump.txt
[
]
32-2024-TheDoubleJuggaloPresidency.txt
[
]
33-2029-Apophis.txt
[
]
34-2050-Flooding.txt
[
]
35-2040-2424-PreparingAlterniaC.txt
[
]
36-RIPHIC.txt
[
]
Critical Assets
[
]
The folder CRITICAL_ASSETS.zip contains 10 .jpeg image files of a "shitty wizard", along with the following "README" file:
ATTENTION. BY ILLEGALLY HACKING INTO THE DARK_WEB_CACHE FULL OF ILLICIT_WARES WHICH HAS BEEN EXPLICITLY BLACKLISTED BY THE GOVERNMENT, AND STORING THESE CRITICAL_ASSETS ON YOUR DEVICE, YOU HAVE OFFICIALLY AGREED TO ALLOW YOUR DEVICE TO BECOME A CRITICAL NODE IN THE SKAIANET SYSTEMS BLOCKCHAIN. TO REMOVE YOUR SYSTEM FROM THE BLOCKCHAIN, THESE INSTRUCTIONS MUST BE FOLLOWED PRECISELY. AT EXACTLY 04:13 UTC, DELETE CRITICAL_ASSET01.jpg. DELETION MUST OCCUR WITHIN NO GREATER OR LESS THAN ONE SECOND FROM THAT TIME. EXACTLY 24 HOURS LATER, DELETE THE SECOND CRITICAL_ASSET AT THE SAME TIME. CONTINUE DELETING EACH CONSECUTIVE CRITICAL_ASSET EVERY 24 HOURS UNTIL ALL HAVE BEEN DELETED, AND THEN 24 HOURS AFTER THAT, DELETE THE FOLDER, INCLUDING THIS READ ME FILE. ANY DEVIATION FROM THESE INSTRUCTIONS, SUCH AS DELETING A FILE AT THE WRONG TIME, WILL RESULT IN FAILURE, AND YOUR DEVICE WILL REMAIN EMBEDDED IN THE BLOCKCHAIN UNTIL YOU REINSTALL THIS CACHE OF CRITICAL_ASSETS AND START THE UNINSTALLATION PROCESS OVER. SKAIANET SYSTEMS THANKS YOU FOR GENEROUSLY PROVIDING MOST OF YOUR DEVICE'S COMPUTING POWER TO THE BLOCKCHAIN.
This is a refence to a real-life event where Hussie downloaded a zip file of shitty wizard images to use in Rose's house, only to have his entire computer succumb to a terrible virus.
Other images
[
]
Two images outside of the "CRITICAL_ASSETS.zip" folder appear in the hidden content. This include the file "pyorulsite.jpg" from the folder "SAMPLES/APOPHIS", an image of a mineral formation that appears on wikipedia, and "OUR_DEAR_FOUNDER.jpg" from the folder "LEGACY", which is an image of Colonel Sassacre taken from an image of his Daunting Text in Homestuck. Both of these images are viewable in the gallery below.
Criticism and apology
[
]
Following the initial release of the hidden "history" content found within the site's files, some portions of its readership expressed severe concerns about segments of its content. In particular, the interactions between Adolf Hitler and Albert Einstein, and some of the more sexual interludes, were found to be carelessly offensive or inflammatory. The treatment of the Holocaust in particular was criticised for being offhandedly antisemitic.
The hidden content was removed shortly after the release of the Skaianet Systems website, however this did not stem its spread or the spread of the criticism. Between January 2–5, an apology message written presumably by Andrew Hussie was present on the Skaianet Systems homepage, reflecting on the insensitivity of aspects of the writing, and apologizing for releasing work that was carelessly drafted and inflammatory.
The apology message reads:
"Originally there was some backstory content hidden in some cursed tags in this site code. I came up with the concepts years ago for internal purposes, not originally intended for public consumption. I thought some might find it interesting if the material were leaked in the site code in an obscure way. I think it has proven to be neither obscure as imagined, nor all that rewarding to read. The subject matter was inflammatory in careless ways, and the negative reactions to it are legitimate and should have been expected. A drafting process can be messy and can result in some ill-advised nonsense which often should not see the light of day. Letting a bunch of rough draft text files be deployed in this way was not a well considered move. Obviously this material has hurt a lot of people. Which isn't what I was going for, and didn't anticipate, but certainly should have. As far as the intentions behind it, I'm sure I believed it would be read as condemnation through satire, but instead it came off as excessively irreverent and disrespectful of a sensitive topic (to be clear, the main topic relates to antisemitism, which of course is not an issue that should be handled frivolously). After receiving criticism it's obvious to me where I'd been mistaken, and why no one could have possibly read it the way it was intended. I know this content was bad, I regret putting it in a place where people would discover it, and I regret that it was drafted in the first place.

I acknowledge that there are certain subjects which demand an exceptional level of care, and that I have been inexcusably thoughtless in handling this. I understand that there should be a certain standard of consideration and review for the content that is presented to an audience, and in forgoing that consideration there have been serious consequences for those people whom this issue directly affects. This could have been easily avoided had I sought a more careful review before it was posted to ensure that what I actually wanted to convey was being properly conveyed.

I am sorry that this lapse of judgment has been hurtful to so many people. I cannot undo the damage that this has caused, but I can promise that I am aware of the gravity of this mistake and that, going forward, I will be more mindful of the serious impact careless decisions have on those they hurt."
— Andrew Hussie
Hiveswap Friendsim writer V also posted a reflection on the content and the process that allowed it to be released.
Gallery
[
]
Trivia
[
]
A day after fans found a stuffed bear and a sign with the letter "E" in one of the site's coordinates in the hopes of them being an alternate reality game, Friendsim writer "V" tweeted a clarification that nothing was actually planted on these spots and the finding was just coincidental.
External links
[
]
Upload of the NSFW Sweet Bro and Hella Jeff comic "REBIRTH".