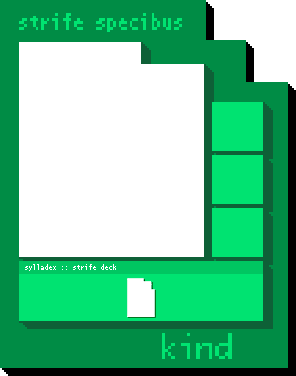 In the Homestuck universe, weapons can be placed into a Strife Deck, which allows the player to use objects to Aggrieve enemies. Each Strife Deck is contained with a Strife Specibus and a character with multiple Strife Specibi will store them within a Strife Portfolio. In order for an artifact to be allocated to a Strife Deck, it must be the same kind of item as the character's chosen Kind Abstratus, and there must be a free Captchalogue Card in the Strife Deck. It appears that Strife Decks might use a special type of Captchalogue Card. Each Strife Specibus appears to come with one card in its deck by default. It is unclear whether players are intended to acquire new cards; John has acquired bunnykind from an imp, but the players are usually limited to their initial choice of weapon.
The different strife specibi are divided among the many Kind Abstrata. They are named with the formula: [weapon]kind. The Kind Abstrata are limited to twelve characters (including "kind") in name, which means that longer names are shortened, usually by omitting vowels, such as "fncysntakind". The characters used so far include lowercase letters, numbers and the symbol "/" (only used as part of ½, depicted as "1/2", in "½bladekind" and "½bowkind").
Apparently, artifacts allocated to the Strife Deck can be used at will

.
It should be noted that imps can also place items into their strife deck. They drop their Strife Specibus card when defeated if they have done so. Also, all MSPA Readers and (possibly) Doc Scratch​ have the pistolkind

specibus.
Damaged or Altered
Edit
If an item used to strife is damaged or fundamentally altered during use, its related Kind Abstratus will change itself into a type to match. This is presumably to avoid getting suddenly disarmed when the item doesn't match the old Abstratus and cannot be allocated. To correct this, the item must be restored to its old shape. However, if a Strife Deck user has a Strife Card of the weapon before alteration, and after alteration, it seems that it doesn't change the Strife Card. For example, Calliope uses a Wandkind Specibus and a Pistolkind Specibus in her Strife Deck, so presumably, her Wand/Pistol will automatically change Strife Cards.Often this can result in a fraction being added to the name; Dave's sword is cut in half so he now has 1/2bladekind, and Feferi had a second fork added to the other side of her Trident making it a 2x3dent. Jane's Junior Battermaster's Bowlbuster Stirring/Poking Solution 50000 can be switched from a spoon to a fork and back, changing Jane's Abstratus with it. Kanaya's lipstick can be changed to chainsaw mode and back, which presumably causes her Abstratus to change to chainsawkind. During his first Imp Strife, John had broken his Slegehammer while Agrieving, and in the process removed the Hammerhead from the Handle (Handlekind). After the Strife, he put the Hammerhead back on the Handle, changing it back to Hammerkind.
Kids' Kind Abstrata
Edit
Trolls' Kind Abstrata
Edit
Cherubs' Kind Abstrata
Edit
Hiveswap Kind Abstrata
Edit
Hiveswap does not show Kind Abstrata as being part of their mechanics, instead using Abilitechs, which are not limited to weapons. However, it is assumed that their weapons also have Kind Abstrata, as they and Abilitechs are utilized in a similar way. Furthermore, all the names for Kind Abstrata in Hiveswap are conjectural.
List of Selectable Abstrata
Edit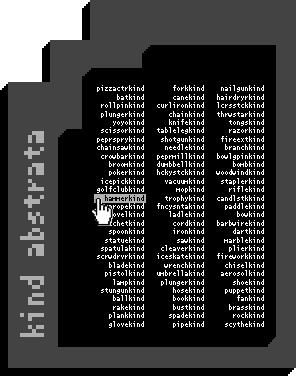 This list was made from referencing the image in the list of kind abstrata to the right. However, since some abstrata that do not appear on this list have been used in Homestuck, it seems that, despite there not being any sort of button to switch between pages on the list, those are far from the only kind abstrata that are available to choose from.
(It is interesting to note that Plungerkind appears twice: once in the fourth position of the first column and again, sixth from the bottom in the second column, causing one to wonder if there are multiple kinds of plungers which are classified in two separate categories based on some quality that is unique to each of the two kinds. This is also the only known example of this type of dual-category abstrata to date.)
aerosolkind
ballkind
barbwirekind
batkind
bombkind
bookkind
bowlgpinkind
branchkind
brasskind
bustkind
candlstkkind
chainkind
chainsawkind
chiselkind
cleaverkind
cordkind
crowbarkind
curlironkind
dartkind
dumbbellkind
fankind
fireextkind
fireworkkind

glovekind
golfclubkind
hatchetkind
hairdryrkind
hckystckkind
hosekind
icepickkind
iceskatekind
ironkind
jumpropekind
knifekind
ladlekind
lampkind
lcrsstckkind
marblekind
mopkind
nailgunkind
paddlekind
peprmillkind
peprsprykind
pipekind
pizzactrkind
plankkind
plierkind
plungerkind (appears twice)

pokerkind
rakekind
razorkind
rockkind
rollpinkind
sawkind
scissorkind
scrwdrvrkind
shoekind
shotgunkind
shovelkind
spadekind
spatulakind
staplerkind
stungunkind
tablelegkind
tongskind
trophykind
vacuumkind
woodwindkind
wrenchkind
yoyokind
Community content is available under
CC-BY-SA
unless otherwise noted.