N.B. The subject of this article is not something created by Andrew Hussie. However, it is
considered relevant to the Wiki's scope due to connections it has to one or more of his works.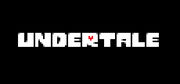 Undertale is an RPG created by Toby Fox. It was released on September 15, 2015, and quickly gained widespread acclaim. An episodic spinoff game, Deltarune, released its first episode in October 2018.
Toby Fox apparently started developing Undertale in Andrew Hussie's basement.
Connections with MSPA
[
]
Allusions
[
]
As Toby Fox was part of the Homestuck music team, several things in Undertale can be seen as references to Homestuck:
Musical connections
[
]
Common sound effects
[
]
References to Undertale in MSPA

[

]
Deltarune

[

]
The first episode of Undertale's spinoff, Deltarune, was released on Halloween, 2018. As with Undertale, this game contains several connections to Homestuck that are probably non-coincidental:
References
[
]