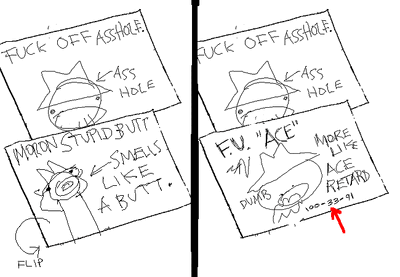 Unpleasant notes are inventory items in Problem Sleuth. They are the three detectives' main method of communication before they join forces.
Problem Sleuth and Ace Dick have sent a ridiculous number of notes to each other, ended by Ace Dick's "apology" note

reading "Problem Sleuth is OK sort of". Pickle Inspector has only written one

, which is to Problem Sleuth. It informs Problem Sleuth just how impolite he is.
In the final stages of the battle with DMK, Problem Sleuth used a fully typed and notarized Unpleasant Note to cause a sudden spike in the boss's Sick Burn meter.
In Homestuck, Calliope receives

unpleasant notes from Caliborn via the Juju Modus they both use.
Community content is available under
CC-BY-SA
unless otherwise noted.