The Whores are minor characters in Problem Sleuth. They work for Madame Murel at the SLEAZY BROTHEL IN THE SKY.
Whores are on-call 24/7. Merely ring up 1-900-STRIP-1ST, and they'll hop in the whoremobile and be on their way. Beware, though; at times they can sometimes prove to be unscrupulous

.
For a short time, HD and NB worked as whores as a cover-up for their inexplicable fan cord adventure.
Due to the Pulchritude of Hysterical Dame, the Whores have changed into a party similar to the Four Heroes sent by the four kingdoms. They even got names! There's Trollop Thief, Harlot Ranger, and the Strumpet Priestess.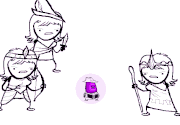 After being rescued, the whores joined the battle against DMMK. The Harlot Ranger attacks with her Bow & Arrows, The Trollop Thief attempts to steal DMMK's spondulicks but instead loses 117 of her own, and the Strumpet Priestess summoned the Demimonde Goddess but it was swallowed up by DMMK's gravitational field.
Gallery
[
]